No two heads of hair are alike, but all can benefit from a simple yet effective 7-day hair care routine.
As the adage goes, "prevention is better than cure" – and that's what this routine is all about.
You'll learn how to care for your hair in a way that promotes health and growth, from deep conditioning and scalp care to moisture replenishment and natural hairstyling.
Get your hair looking and feeling its best with this easy-to-follow guide.
Key Takeaways
Deep conditioning and scalp care are essential for maintaining healthy hair.
Gentle cleansing and protective styling can prevent damage and promote hair health.
Moisture replenishment and natural hairstyling are beneficial for all hair types.
Protecting hair from heat and product damage is crucial for maintaining its health and preventing breakage.
Day 1 – Deep Conditioning
Deep conditioning your hair is the foundation for a healthy hair care routine. It helps nourish and repair damaged hair strands, leaving your hair looking healthy and shiny.
To take full advantage of the benefits of deep conditioning, make sure to follow the proper steps for applying it to your hair.
Benefits of Deep Conditioning
You can reap tremendous benefits from deep conditioning your hair on day one of your simple yet effective seven day hair care routine.
This elixir of nutrients helps to hydrate and soften hair, while restoring moisture and preventing breakage. Vitamin B, rose, coconut, lavandula and essential oils, tea, egg yolk, olive oil, and yogurt provide nourishment and detangling to leave hair sleek and frizz-free.
Deep conditioning gives scalp and hair the nourishment it needs, leaving you with healthy, vibrant locks.
How to Apply Deep Conditioner?
Continuing on from the benefits of deep conditioning, you can apply it easily by following a few simple tips.
Always shampoo your hair first, and start working in the conditioner at the ends.
Don't put on too much, as it could weigh your hair down.
The deep conditioning helps to nourish the hair follicle with protein, omega-fatty acids, vitamin A, vitamin D, and zinc, all of which can help create strong, healthy, and shiny hair.
Leave it on for 10-30 minutes, and if possible, try sleeping with it in your hair and rinse it out the next morning.
With this routine, you'll soon have bad hair days a thing of the past.
Day 2 – Scalp Care
Your scalp is the foundation of healthy hair, so taking the time to give it some extra love is essential.
Scalp massage is a great way to promote hair growth, improve circulation and reduce stress.
Essential oils like rosemary and peppermint can help to further stimulate your scalp and get the hair growth process going.
Benefits of Scalp Massage
On day two of your hair care routine, you can enjoy the many benefits of a scalp massage:
To promote hair growth: weekly massages can strengthen the hair follicles, stretch the cells, and encourage thicker hair.
To nourish your hair: apply a hair gel with ginseng to your scalp for added smoothness and healthy hair.
To reduce hair concerns: regular scalp massages can help reduce the signs of alopecia and condition your hair for your weekly hair care routine.
Enjoy the style and confidence of healthy hair with this simple yet effective weekly hair care routine.
How to Massage your Scalp for Hair Growth?
Start your scalp care routine with a scalp massage, a simple yet effective way to boost hair growth. Use your fingertips or palms with light to medium pressure in small circles. Massage for 6 minutes.
Essential oils like lavender or peppermint, mixed with a carrier oil, can be added for added benefits.
Foam up a weekly hair mask or hair oil to nourish your scalp and hair, helping to prevent hair loss and trichoptilosis, while also aiding in detoxification and iron absorption for best hair results.
Day 3 – Gentle Cleansing
Cleansing your hair is an important part of any good hair care routine. Taking the time to use a gentle, sulfate-free shampoo will help ensure that your hair isn't only looking its best, but also staying healthy.
Gentle cleansing will help remove dirt, oil, and product buildup without stripping away the natural oils your hair needs to stay healthy and strong.
Benefits of Gentle Cleansing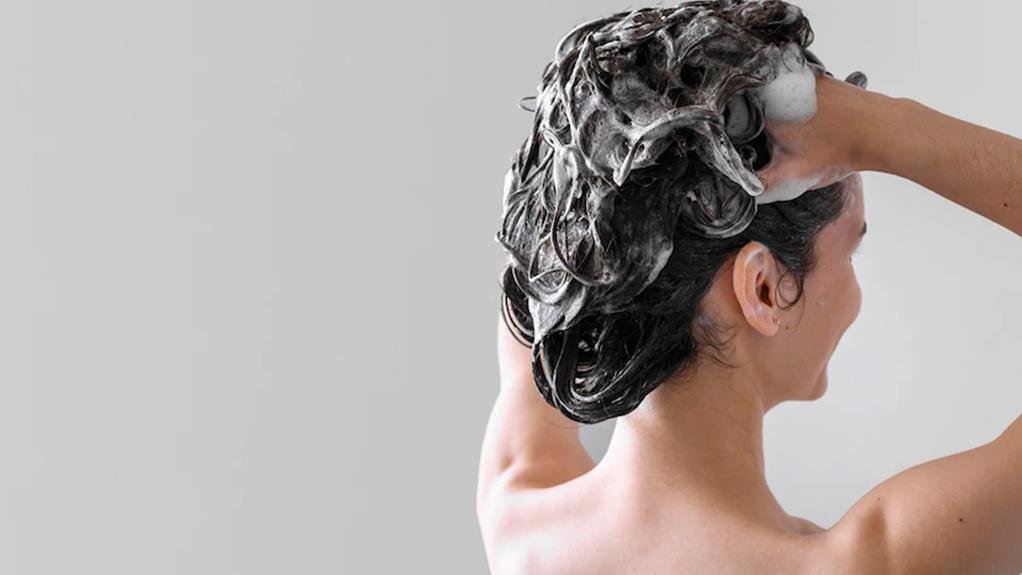 By day three of your simple yet effective hair care routine, you'll already be reaping the benefits of gentle cleansing:
Split Ends: Prevent split ends from forming by shampooing and conditioning your hair twice a week and working your way up to using early thermal weapons like straighteners and curling irons.
Damaged Hair: Protect your hair from damage by nourishing it with conditioner, as it helps keep your hair from becoming dry and brittle.
Hair Health: Keep your hair and scalp healthy by using a shampoo and conditioner specifically formulated for your hair type.
Day 4 – Protective Styling
Protective styling can be an effective way to keep your hair looking healthy and shiny.
With its ability to keep hair in place and reduce tension from manipulation, it can be a great way to prevent damage and keep your hair looking great.
Not to mention, it can also give you a great change in style!
Benefits of Protective Styling
On day four of your seven day hair care routine, take advantage of the protective styling benefits to keep your hair healthy and hydrated. These include:
Retaining Moisture: Choose the right protective style and treat your hair with a natural oil like Azadirachta indica for maximum hydration.
Scalp Health: Low-tension protective hairstyles reduce itch and irritation, while lightweight styles add volume.
Hair Growth: Shield your scalp from harsh elements, lock in hydration, and use a heat protectant to boost cuticle growth.
Day 5 – Moisture Replenishment
Moisture replenishment is one of the most important steps in any hair care routine. It helps to restore your hair's hydration, and keeps it looking and feeling healthy.
Benefits of Moisture Replenishment
It's time to replenish your locks with some much needed moisture – you'll be glad you did! Moisture replenishment is essential for maintaining healthy hair, as it helps to strengthen and protect hair follicles. By including it in your hair care routine, you can ensure your hair is kept hydrated and nourished, no matter what your hair type or style.
Benefits of moisture replenishment include:
Defending hair: Forming a protective barrier against environmental aggressors, like pollution and UV rays.
Taming frizz: Sealing the hair cuticle and repelling humidity helps reduce frizz.
Reducing split ends: Keeping the hair cuticle sealed and moisturized prevents splitting.
Preventing breakage: Strengthening the protein bonds within each strand makes hair more resilient.
Day 6 – Overnight Deep Treatment
On the sixth day of your hair care routine, treat yourself to an overnight deep treatment. This treatment will help to intensely nourish and hydrate your hair, leaving it feeling softer and healthier.
It's a great way to give your hair the extra boost it needs for the week ahead.
Benefits of Overnight Deep Treatment
Your hair's health and appearance can benefit greatly from an overnight deep treatment. Intense hydration and nourishment repairs damaged cuticles and restores shine, while promoting hair growth and strengthening follicles. To get the most out of this treatment, try the following:
• Dry your hair and let it air dry or use low heat.
• Trim your hair regularly to reduce damage.
• Rinse your hair with warm water to remove dirt and oil.
• Avoid using hot water, which can cause hair fall.
• Apply a deep conditioning treatment to your hair and let it stay overnight.
Follow these tips and let your hair get the nourishment it needs for healthier, shinier locks!
Day 7 – Natural Hairstyling
Embracing natural hairstyling has countless benefits for your hair. Not only does it protect your strands from unnecessary heat and product damage, but it also encourages healthy hair growth.
With the right products and techniques, you can create stylish looks that will leave your hair looking and feeling amazing.
Benefits of Natural Hairstyling
By taking the time to embrace natural hairstyling on the seventh day of your hair care routine, you can reap countless benefits:
• Minimizing heat damage and preventing breakage: Cool water can improve your hair by going to bed with it in its natural state.
• Enhancing hair's natural texture and volume: Give your hair a break from chemical treatments and shampoos for your hair to strengthen it.
• Promoting a healthy scalp environment: Avoiding hair treatments and breakage can lead to healthier hair and scalp.
Conclusion
By following this simple yet effective seven-day hair care routine, you can keep your hair healthy and looking its best. With the right techniques and products, you can keep your hair soft, shiny, and full of life.
Plus, it has been found that the average person loses up to 50 to 100 hairs per day, so a good hair care routine can help you retain more of your hair for a longer time.
Get started today and enjoy healthier, happier hair!