I have always looked for innovative solutions to my hair fall problem. When I heard about Indulekha Bringha Hair Oil, a clinically proven ayurvedic medicine that could reduce hair fall and promote hair growth, I was excited to try it.
With optimism, I bought the oil and started using it – here's my honest Indulekha Bringha Hair Oil Review on how to use it correctly, its benefits, potential side effects, and more.
Overview
Combining ancient Ayurvedic wisdom with modern science, Indulekha Bringha Hair Oil offers an effective solution to hair fall and thinning, giving your mane a much-needed boost. This 100% ayurvedic oil is free from parabens, sulfates, silicones, synthetic dyes, and synthetic perfume.
It comes with a comb applicator for easy application directly to the scalp where it is needed. Clinical tests have shown that regular use of the oil 3 times a week for 4 months can reduce hair fall and promote new hair growth. Additionally, this oil reduces dandruff and premature greying of hair.
The strong herbal fragrance may not appeal to everyone, but if used consistently, it can result in healthier scalp and hair growth. It can be expensive, and the selfie bottle may leak at times, but overall, Indulekha brings promising results when used accordingly.
Indulekha Bringha Hair Oil Review
Indulekha Bringha Hair Oil is a proprietary medicine (ayurvedic) enriched with Bringharaj and 10 other herbs. It comes in a brown selfie comb bottle and a golden brown carton box package.
The oil has a strong herbal fragrance, and its thick, sticky consistency ranges from yellow to light brown, depending on the temperature.
Packed with an impressive blend of 10 healthy & effective ingredient, like grape, amla, curry leaves, and coconut oil, Indulekha Bringha Hair Oil is the ultimate powerhouse to battle hair loss.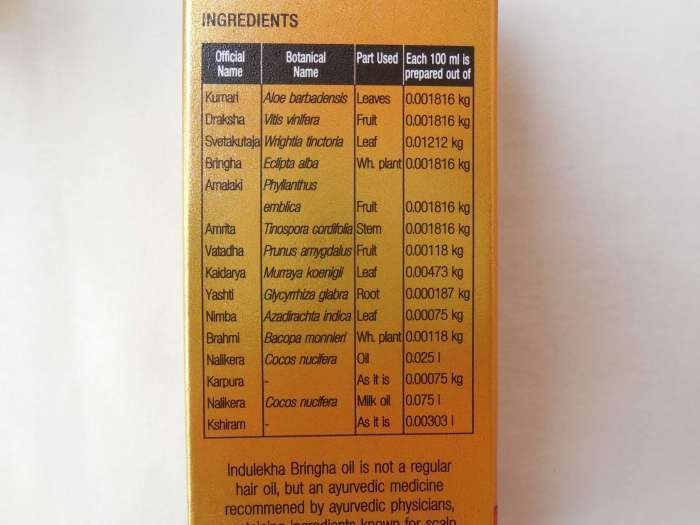 It's clinically proven to reduce hair fall and promote new hair growth when used consistently for 4 months. With its 100% ayurvedic formulation free from parabens and other synthetic chemicals, it's no wonder that this oil has become popular in India.
Indrayava
Grape
Neem
Curry leaves
Almond
Bhringraj
Aloe Vera
Coconut Oil
Mulethi, Amrita, Brahmi, Camphor, Kshiram
The above ingredients make Indulekha hair oil an excellent choice for relieving itchy scalps or skin diseases of the scalp caused by bacterial infections.
The oil comes in a brown bottle with a cap of a self-applicator comb and golden brown carton box packaging, making it easy to apply directly to your scalp. This is an innovation compared to traditional screw lid bottles – no more trying to pour the oil onto your fingers.
The package also includes a comb applicator that ensures the oil reaches where it needs to go – directly on the roots of your hair. The selfie bottle may sometimes leak, but you can opt for their normal screw-lid bottle instead.
Indulekha Bringha Hair Oil has a strong fragrance, thanks to Bringharaj and 10 other herbs. The herbal fragrance will make your senses tingle while also performing its medicinal properties – helping to reduce dead skin cells and even treating some types of psoriasis.
However, a strong herbal scent may not be pleasant to everyone.
Indulekha Bringha Hair Oil has a thick, sticky consistency and golden brown color. This 100% ayurvedic oil makes it an ideal choice for those looking for hair regrowth.
The base oil used in this product is virgin coconut oil which has been matured under natural sunlight for up to 7 days – making it even more effective and also the reason for its golden brown color.
You'll be amazed by the affordable price of Indulekha Bringha Hair Oil. It is in an economical-sized bottle of 50ml and 100ml, making it an absolute steal.
It's an excellent investment considering the numerous benefits it offers. With its natural fragrance and wonderful herbs, it helps reduce hair fall issues and promote new hair growth.
Additionally, its shelf life is also quite impressive. Once opened, it can last up to 6 months if kept away from sunlight and heat sources.
Benefits of Indulekha Bringha Hair Oil – My Experience
Discover what I discovered when using Indulekha Bringha Hair Oil – from its nourishing effects to its ability to help reduce hair fall. After using the oil for four months, I can confidently say that this product has helped me control my hair fall and even grow new hair.
The nourishing effects of Indulekha Bringha Oil cannot be overlooked.
It worked wonders on my scalp, giving me much softer and smoother hair than before. My friends constantly complimented me on how healthy my hair looked. Not only did it make my locks look lustrous, but it also made them smell fantastic due to their 100% natural fragrance and color.
All in all, this product has been a great addition to my beauty regime.
Sale
Indulekha Bringha Hair Oil
CLINICALLY PROVEN HAIR GROWTH in 4 MONTHS: Indulekha hair oil has been clinically proven has been proven to be effective on real male and female users who have experienced mild to severe hair fall, and proven to promote hair growth in 4 months and reduce hair fall.
COMBINED POWER OF 11 HERBS AND ESSENTIAL OILS: The ayurvedic hair oil harnesses the power of 11 herbs and essential oils – such as Bringharaj, Amla, Vatadha, Svetakutaja & coconut hair oil. These natural ingredients have been carefully selected cooked under natural sunlight for 7 days. Combined to create a powerful hair oil bottle that nourishes and strengthens your hair.
Last update on 2023-11-29 / Affiliate links / Images from Amazon Product Advertising API
Pros
Easy application with a comb applicator bottle
Nourishes scalp & promotes hair follicle growth
It makes hair lustrous & keeps hair healthy
Smells excellent due to its natural fragrance & color
It improves scalp conditions like dandruff, thanks to the Svetakutaja, which has antimicrobial activity.
Cons
Coconut oil solidifies in cool temperatures, so you need to warm the bottle before use.
Its strong herbal scent might put off some people.
Though the oil does indeed work well in reducing hair fall and promoting stronger hair, regrowth of thinning areas may not be visible.
It is quite expensive compared to other brands.
Side Effects of Indulekha Bringha Hair Oil
Indulekha Bringha Hair Oil is an Ayurvedic-based haircare product. It claims to help reduce hair loss, strengthen hair roots, and improve hair texture.
I have been using Indulekha Bringha Hair Oil for about four months and have not experienced any negative side effects. My hair feels softer, and my scalp feels smoother. I have also noticed that my hair is looking healthier and shinier.
The only side effect I have noticed is that my scalp is slightly oily after using the oil. This is a common side effect with any oil-based product and can be easily remedied with a gentle shampoo.
Overall, I am thrilled with the results of using Indulekha Bringha Hair Oil and would recommend it to anyone looking to improve the health and appearance of their hair.
However, some online users stated side effects such as increased hair fall when stopped using the oil, but that largely depends on the individual.
Ultimately, though, if used properly according to instructions on how much and how often to apply it, Indulekha Bringha Hair Oil is an effective solution for those looking for good results without any side effects.
How to use Indulekha Bringha Hair Oil?
After trying Indulekha Bringha Hair Oil for 4 months, I've learned the best way to use it, with which I have seen a remarkable difference in hair loss.
The key is to apply the oil with its comb applicator directly to the scalp to nourish and strengthen hair roots. Here's a step-by-step guide on how to use this oil:
Open the bottle, attach the cap with needles, and comb your hair to remove tangles.
Gently squeeze out some oil from the front to the back of your scalp and massage well with your fingertips.
Leave it overnight or a few hours before washing it off with Indulekha's Bringha Hair Cleanser.
Using this consistently 2-3 times a week will help reduce hair fall, promote new hair growth, and prevent dandruff and premature greying of hair.
Conclusion
My experience with Indulekha Bringha Hair Oil has been positive overall. Not only did it help reduce my hair fall problem, but my hair also looked healthier and more voluminous than before.
What's more, I noticed an improvement in the texture of my hair after just one week of use! On average, people who use this oil can see results within a month or two — that's pretty impressive if you ask me.
I'd highly recommend trying Indulekha Bringha Hair Oil if you're looking for a natural solution to your hair-related problems.
Also read: 5 Best Glutathione Soap for Skin Whitening in India
Frequently Asked Questions
Are there any precautions to be taken while using Indulekha Bringha Hair Oil?
When using Indulekha Bringha Hair Oil, some precautions should be taken to ensure optimal results. Using the oil consistently for at least three months is essential for best results. This means applying it three times a week and leaving it in for two to three hours before washing it with Indulekha Bringha Hair Cleanser.
Additionally, the oil tends to freeze in winter, so it's advised to warm up the bottle with warm water before use. Finally, if any hair-related problems persist after regular use of the oil, it's recommended to consult a physician.
Can Indulekha Bringha Hair Oil be used on colored hair?
Yes, Indulekha Bringha Hair Oil can be used on colored hair. According to the manufacturer, it is safe for all types of hair, including dyed or colored hair. Plus, its herbal properties help nourish colored hair while keeping it healthy and strong – making your locks vibrant and lustrous.